Brought to Japan by missionaries 400 years ago, together with the recipe for "castella" sponge cake. A popular gift and a Hirado specialty.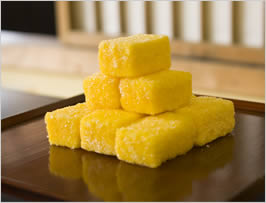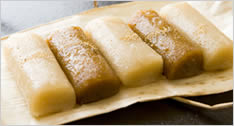 The recipe is said to have come from Wang Wu-Feng of China some 440 years ago. The name is taken from the gobo(burdock) plant, which the rice cakes resemble in color and shape.
Old-style sweets
Tsuruya and Sakaiya, orderd by the han to prepare sweets for use in the Chinshin School of tea ceremony, developed a range of treats introduced in the "Original Picture Book of 100 Confectioneries" issued in 1841 to 1846,during the Edo period.